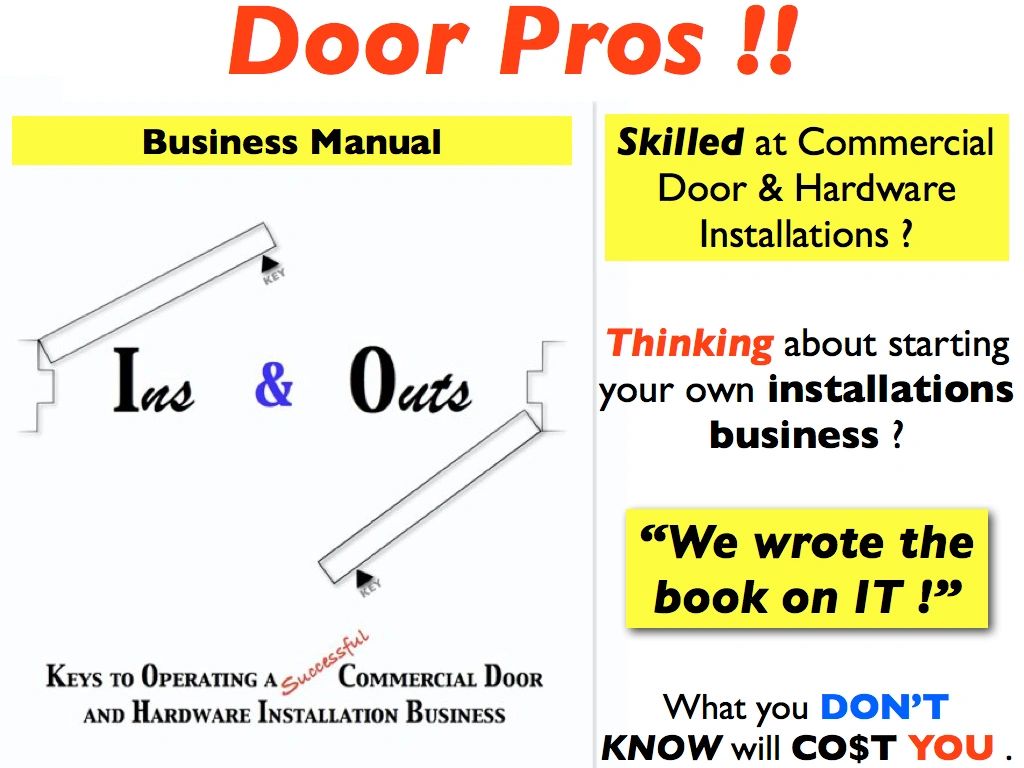 Ins & Outs..... "Keys to Operating a Successful Commercial Door and Hardware Installation Business."
What you DON'T KNOW will COST you.
If you're skilled at commercial door and hardware installations and have thought about starting your own installation business... DO NOT start business without FIRST reading "Ins & Outs". If you're already in business.... the information in this manual could save you thousands of dollars. Most guys don't know the value of their work and they charge too little. Ins & Outs includes a Price Table to help you determine how much to charge and will show you how to present your bid in the form of a carefully worded Scope Proposal.
"Ins & Outs" also includes information regarding : Insurance Requirements, Designing a Business Resume, How to find Contractors and Projects to bid, Jobsite Preparation and Management, How to get Paid for your Work in a Timely Manner, Signed Agreements and why you should NEVER enter into verbal agreements with Contractors, Change Orders and Non Contract Work, Notice to Owners and Filing Liens, Business Structure options, Employee Management Issues and Contract Labor, How to Increase your Efficiency in Door and Hardware installations, How to accurately read the Finish Hardware Schedule, Door & Hardware Terminology and Abbreviations, How to Handle Door and Hardware Problems on the Jobsite.....And More....
Includes various forms designed specifically for COMMERCIAL Doors & Hardware...Bid Takeoff Sheets, Scope Proposal Forms, Door and Hardware Troubleshooting Forms, Hardware Management Forms.


"Ins & Outs" is the ONLY BUSINESS Reference Manual created specifically for Commercial Door and Hardware Installation.
There's MORE to the business of installing commercial doors and hardware than just installing doors and hardware. The downfall of most who venture into business in the construction industry is not the quality of their work, but the quality of their PAPERWORK.
"Ins & Outs" is just 249.99. You will make more than that installing ONE basic commercial door but you could lose 10 times that if you don't know you are supposed to get a signed Change Order from the Contractor BEFORE doing work that wasn't included in your original agreement. You could lose 20 times that if you don't know what a Notice to Owner is and why you should always file it once you start work on a construction site. You could lose 100 times that if you underbid your work because don't know how much to charge.
What you DON'T KNOW will definitely COST you MORE !!